Rick Danko
This site is all about
Rick Danko
, the charismatic bass and acoustic guitar player and one of the three lead singers for the legendary rock group,
The Band
. Rick's iconic plaintive tenor, his ethereal, one-of-a-kind harmonies and his loping, melodic, percussive bass playing were a large part of The Band's signature sound. Equally integral to The Band's mystique--and to their secure and enviable perch high atop the upper crust of rock and roll--was Rick's magnetic, larger-than-life persona--part innocent country boy, part wandering troubadour, part reluctant rock star.
Rick Danko
was about music. He was about melody. He was about harmony. He was about authenticity. He was about vulnerability. Rick was--and always will be--the epitome of unadorned, unaffected, unparalleled cool.
I worked with Rick for many years. He was a dear friend and a major influence who "taught me how to seek the path." This site is part of a promise I made to him a long time ago. I hope you enjoy it.
Please note that all content on this site is copyright-protected. All articles, essays, and other written materials (c) Carol Caffin, unless otherwise noted. Do Not Reproduce.

Photographically speaking, this is not a particularly good picture. But I love it for many reasons.
I didn't take a lot of photos at Woodstock '94. There was just too much happening and I was trying to soak it all in (which I did, literally, as it rained quite a bit). But I did manage to take a few. This is one of my favorites.
Rick is walking up to the massive stage, in his "comfortable clothes" and a baseball cap. I remember seeing him walking up the stairs, alone--though, of course, the guys were together, they did not all "file up" to the stage at the same time that day--and, for some reason, it touched me and I took a picture.
It struck me that he was alone with his thoughts, that he had a few seconds of solitude in a crowd of scores of thousands, and I wondered: Is he nervous? Anxious? Excited? Happy?
That morning, he had called to wake me up--at an ungodly hour, though I don't remember exactly how early--long before we were due to meet at the Band bus at Levon's. My husband (then boyfriend) and I were sharing a house with Country Joe and the Fish--and the "Fish" were scattered about sleeping on the floor and on futons, when the phone rang and woke everyone up. Rick sounded happy and hyper and I'm sure he probably called everyone he knew that morning because, like a kid, he couldn't keep his excitement to himself. It wasn't "excitement" about performing at "Woodstock," per se. Rick performed all over the world and it wasn't the size (or lack of size) of the crowd that ever fazed him. I mean, he'd performed at the original Woodstock, and, as we all know, The Band did not consider it to be one of their best performances.
This was a different kind of excitement. A Christmas morning excitement. It was excitement about performing for his fans, seeing friends and family, and making sure that everyone was happy and having a good time.
That was it for Rick--"Are you having a good time? Did you get something to eat? You want a beer?"--keeping everyone else happy.
Posted by

Carol Caffin
1 comment:


Links to this post
T
his item appeared today in a blog post by
Baltimore Sun
reporter Sam Sessa. The post is about music that "makes you cry," and Sessa describes Rick's "tortured vocals" as "brilliant."
Though I prefer to think of his vocals as "wounded"--or vulnerable, trembling, or quivering--I agree with the gist of the description--especially the "brilliant" part.
I love it that people--critics and fans alike--continue to be moved and inspired by Rick's beauty, passion, and talent.
...And I think he'd get a kick out of hearing his vocals described as "tortured."
Here's a link to the post:
http://weblogs.baltimoresun.com/entertainment/midnight_sun/blog/2009/09/what_music_makes_you_cry_and_w.html
(Photo, above, (c) Bob Sanderson, 1979)

I
n August, 1991, Rick performed at an outdoor venue in Bensalem, Pennsylvania, not far from Philly, as part of what was billed as a "classic rock series." Other artists who performed in the series included Maria Muldaur--who was fabulous--and John Sebastian.
Unfortunately, the "stage" was not equipped for a band, and the acoustics were non-existent. The publicist for the venue was obviously confused about how to promote the series, and the audience, consequently, had no idea what to expect. But it didn't much matter--at least not at Rick's show.
He showed up alone with his acoustic guitar and nothing else, and was determined to rock the house. He sang everything from "Sip the Wine" to "Think" to "It Makes No Difference" to "Sick and Tired" to "The Weight" and the audience went wild. "I'd like to play all night," he told the cheering crowd, "but there's a time-limit ordinance." Still, after a short break, he came back, took requests, and sang several more songs.
I've posted a couple of photos from that night on this site in the past. Here are a few more:
M
ost Band fans, by now, are familiar with The "The Band" Band, a cool ensemble of talented musicians (and really nice guys) who perform the songs of The Band live in venues in the Northeast.
Long before he co-founded The "The Band" Band as a living, breathing, musical homage to The Band, singer and bass player Gary Solomon was both a Woodstock-area musician and a huge fan of the group. In fact, as I've mentioned in the past on this site, Gary performed at Opus 40 with Rick, John Hall, Robbie Dupree, and others in September, 1999.
But it was nine years earlier, in December, 1990, that Gary was introduced to Rick by John Simon at the Turning Point, a tiny little gem of a listening room in Piermont, New York, and a place that Rick played regularly (and at which, ironically, The "The Band" Band plays these days).
Recently, Gary came across a photo of himself performing with Rick that very night, and sent it to me so I could share it with you (below). "I'd been looking for it literally for years, and it finally turned up," says Gary. "It brought back great memories."
Those of you who know or who've seen Rick in person will recognize that beaming smile, the Takamine acoustic, and his ever-present watch (face turned inward). Gary--well, Gary looks a little stunned.
"Before the show," Gary remembers, "John Simon introduced me to Rick and asked him on my behalf if I could sit in on bass for a song or two. Rick said 'sure.' I was practically in shock. I could hardly believe I was going to play with my idol."
A little while later, Gary recalls, Rick "was warming up a little in the dressing room, playing 'He Stopped Loving Her Today' and I happened to know the words to the chorus and started to sing along, which was out of character for me, because I'm usually pretty shy. He smiled and nodded at me to sing the next verse, but I didn't know the words. Still, for a moment there, I sang harmony with Rick Danko."
Rick had loyal legions of fans in every city and town--but the New York-area fans were true die-hards who often "followed" him from, say, a Band show at the Lonestar Roadhouse to a solo gig at the Turning Point in Piermont or the Towne Crier in Pawling, and up north to the Albany area and on to Boston, or south to New Jersey and then Philly, depending on the routing. Many of those fans are still out there, and still loving Rick. If there's anybody out there who was at that Turning Point show that night, I'd love to hear from you.
In the meantime, check out The "The Band" Band if you can. These guys are truly dedicated to keeping The Band's music alive. Here's their current schedule (including a Turning Point show in November):
Friday, Sept. 25, 9:00 PM
Mexicali Live
1409 Queen Anne Rd.
Teaneck, NJ
201-833-0011
(double bill with The Peach Project, an Allman Brothers tribute)
Saturday, Oct. 10, 8:00 PM
Endicott Performing Arts Center
102 Washington Avenue
Endicott, NY 13760
607-785-8903
Thursday, Oct. 22, 8:00 PM
Chan's Eggroll & Jazz
267 Main St.
Woonsocket, Rhode Island 02895
401-765-1900
Friday, Oct.23, 8:00 PM
One Longfellow Square
Corner of Congress and State
Portland, Maine 04101
207-761-1757
Saturday, Oct. 24, 10:30 PM
Newport Blues
286 Thames Street
Newport, RI 02840
401-841-5510
Saturday, Nov. 28, 9:00 PM
The Turning Point
468 Piermont Ave. Piermont, N.Y. 10968
845-359-1089
I
mages of Rick in the interim period between the end of his tenure with Ronnie Hawkins and The Band's
Big Pink
era are few and far between. This is one of my favorite pictures of Rick, c. 1965, with Bob Dylan, Bobby Neuwirth, David Blue, and others at Ondine's in New York City--the happening club at the time, and a favorite hangout of Warhol's Factory crowd.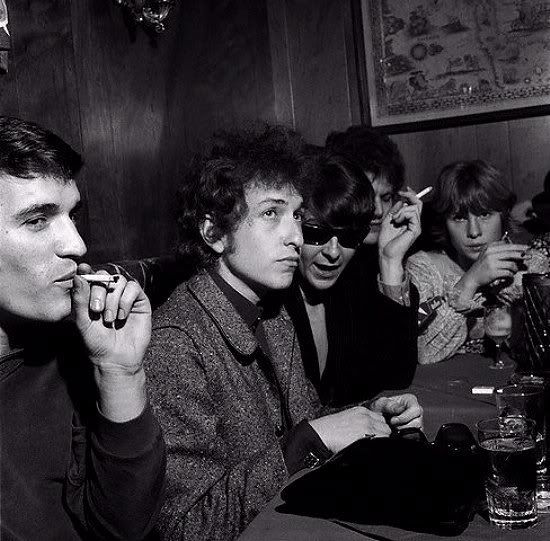 That's Rick in the foreground, ever-present cigarette in hand.
Here's another photo of a very unfazed, very cool Rick Danko in shades, in the audience behind Allen Ginsberg, at one of Dylan's infamous press conferences during the 1965-66 world tour. Thanks to Sarah Nett for this one:
Posted by

Carol Caffin
3 comments:


Links to this post
L
ots of rock stars--The Beatles, The Stones, Eric Clapton--have tales of growing up in modest conditions and ultimately achieving fame and fortune. But Rick's story is literally a rags-to-riches one. Rick was born to loving, hard-working parents, the third of four sons in a close-knit family, and his first home near Simcoe, Ontario, was an extremely humble abode that wasn't even equipped with indoor plumbing or electricity. In the rural community in which Rick grew up, though, many families were in he same--or a similar--boat. It was a community where family, friends, laughter, and in the case of Rick's family, music, were the true riches.
Later, Rick's family moved to a larger, though still modest, house. This is a vintage photograph of the Danko family home, taken by neighbor Donald Korba in August 1959, around the time Rick was still working as a meat cutter in the local meat market, and on the cusp of his burgeoning music career with Ronnie Hawkins.
Many thanks to Mike Korba, whose uncle and cousin (as children) also are pictured here, for this great photo.
Posted by

Carol Caffin
5 comments:


Links to this post